Description
Static relay permits, when it is connected to an AC circuit circuit, to ensure the periodic power supply of a load.

Its ability to accept overloads of about 10 In makes it particularly interesting for the switching of incandescent lamps.
Dimensions

Connection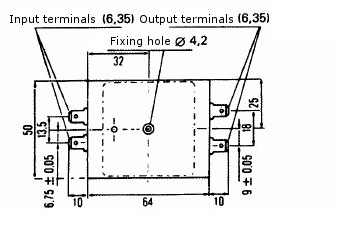 Operation principle
SSR 2002 is synchronised to the zero of the voltage at the closing of the circuit. Its flashing frequency is 1 Hz in standard.
Voltage range :
* 19 to 53 V AC Eff
* 90 to 240 V AC Eff
Min hold current :
* for U = 240 VAC Eff : 70 mA
* for U = 20 V AC Eff : 200 mA
Courant résiduel max : 3 mA (non excité)
Facteur de marche : 50%.
Example of applications :
* luminous alarm blocks
* control of warning lights for road traffic
* Warning lights on superstructures (water towers, cranes, aerials, civil engineering building sites, factories chimneys, ships masts, airports...)
* Services advertising
* luminous beacons.
(see following schematic)
Plan

Technical features
| | |
| --- | --- |
| Function | Flashing |
| Presentation | Under case |
| Storage temperature | -40 to +85°C |
| Weight | 100 g. |
Coil data
| | | |
| --- | --- | --- |
|   | Direct current | Alternative current |
| Min. nominal voltage DC |   | 19 V |
| Min. nominal voltage AC |   | 240 V |
Contacts
| | |
| --- | --- |
| Short-circuit load | 20 ms / 80 A max |
Contacts rating
ALTERNATIVE CURRENT
commutation sur AC
Versions
Other versions can be realized upon request :
* Specific frequencies (0,5 Hz, 2 Hz)
* Duty cycle 40%
* dual rythm flashing
* flashing with alternated outputs