Description
Fast action instantaneous relay.

Relay housed in a rectangular enclosure and pluggable on socket including a locking bracket and two guide pins which can act as a key to ensure that the correct relay is used at the correct voltage (
see our withdrawal guide in the technical support pages of this site
)
Pluggable on the following sockets :  EVB1/CA, ERDL1/CA, ERDL1/CA-DL et ERC1/CA.
Dimensions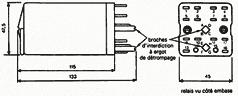 Connection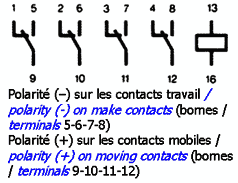 Operation principle
Fast action relay which can be turned on permanent voltage :
* minimum impulse duration : >= 30 ms
* recycling time >= 300 ms
Operating position : spring set on the top and vertical coil axle
See the operation diagram hereafter.
Technical features
| | |
| --- | --- |
| Function | Instantaneous |
| Presentation | under cover |
| Connection | on front or rear wiring socket |
| Number of mechanical operations | 5.000.000 |
| Operating temperature | - 5°C to + 40°C |
| Storage temperature | - 40 to + 70°C |
| Climatic protection | optional reinforced climatic protection |
| Shock voltage | 5 KV (wave 1,2/50 µs) |
| Dielectric strength | 2200 V eff 50 Hz |
| Insulation resistance | NFC 45-202 : C250 ; VDE0100 : C250 |
| Weight | 300 g. |
| Protection level | IP 40 (according to NFC 20-010) |
| Resistance to mechanical shocks | severity 50 A (according to NFC 20-608) |
| Resistance to vibrations | 0,35 mm / 10-55 Hz (according to NFC 20-616) |
Coil data
 
Direct current
Alternative current
Min. nominal voltage DC
24 V
 
Min. nominal voltage AC
220 V
 
Operating range
-20/+10% of nominal voltage
Power requirement
operate : < 50 W - hold : < 3 W
 
 
Contacts
| | |
| --- | --- |
| Number of contacts | 4 |
| Max. load current | 8 A per contact |
Operation diagram
see operating description here above